As a division of Santander Consumer USA, Chrysler Capital associates are invited each year to participate in the Heart Walk as we work together to raise money for the American Heart Association.
Come rain or shine, there is always a hearty group that shows up to walk the three miles through downtown Dallas. This year will be no exception, but proving that Chrysler Capital is where the heart is, some associates are stepping it up this year to do some early fund-raising.
Remember the days of selling lemonade on the corner? It turns out those days aren't so far in the past for a team of funders that have named themselves the Deal Wranglers. These days though it's Kool-Aid®.
What is the "world famous" funding punch flavor of choice? Sharkleberry Fin. (Coincidence that this all started during Shark Week? Hm. I think not.) At 50 cents per cup, they reeled in a pretty penny the first day.
And so it began. It turns out there are a few "foodies" on the funding floor, and their creative (and competitive) sides were ignited by the Kool-Aid stand.
Felicia's Famous Gooey Bars, tacos in a bag, elotes (technically, this is corn on the cob, but when you have to improvise for serving conditions, it turned into corn in a cup), tamales, various breakfast items, rum cake and, of course, more Sharkleberry Fin have all been on the menu. Proceeds, so far, have exceeded $1,500.
Ten Chrysler Capital funding teams are participating in the food/feeding frenzy to raise money for the Heart Walk.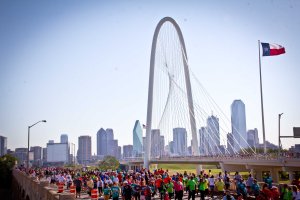 They include The Avengers, Challenger Accepted, Dallas' Funding Chargers, Dallas Rams, Dart Vaders, Deal Wranglers, Freaking Fabulous Fiats, Raging 300s, Renegade Funders and the Vicious Vipers.
This year, the American Heart Association is celebrating 20 years of getting folks up and moving with nationwide Heart Walks. Dallas proudly hosts the largest, with over 60,000 walkers last year and even more expected this year. Santander Consumer USA has been an active participant in the event for over a decade.
The Dallas Heart Walk takes place on Sept. 13. Come join the Chrysler Capital foodies as they walk off some of the fund-raising they've been doing. Or check out the website to find a Heart Walk near you.