If you need to have your car fixed, you obviously want to take it to a place you can trust.
Well, what if during the search for a repair shop, you discovered the only options for a mechanic are late-night TV hosts Jimmy Kimmel, Jimmy Fallon, Stephen Colbert, Trevor Noah, and James Corden?
I wouldn't blame you if you decided to just search "How to fix a car" on YouTube and tried to figure it out on your own. But if the do-it-yourself option wasn't available, which late-night host would you go with?
The same question was asked when the non-profit Car Care Council surveyed over 20,000 vehicle owners to promote April's National Car Care Month. The results came in and showed that either Jimmy Kimmel or Jimmy Fallon are the most trustworthy hosts, or men named "Jimmy" seem to know more about cars.
In the end, ABC's lead late-night host took the victory by just a fraction of a percent.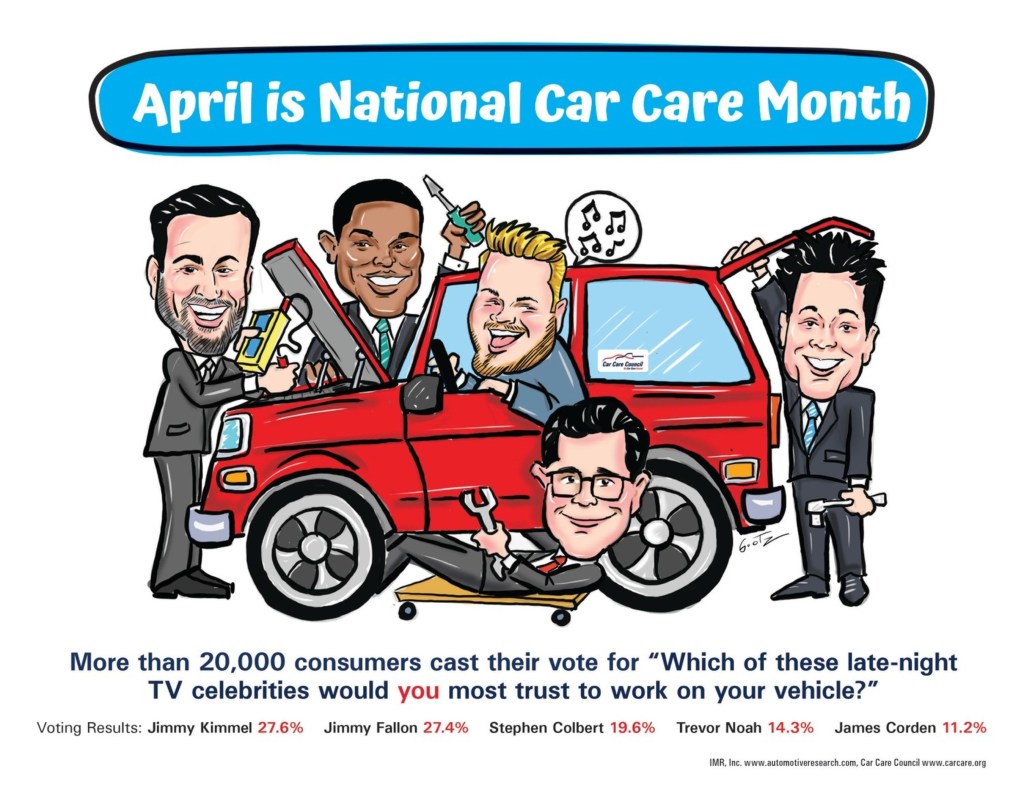 FINAL RESULTS:
| | |
| --- | --- |
| Jimmy Kimmel | 27.6% |
| Jimmy Fallon | 27.4% |
| Stephen Colbert | 19.6% |
| Trevor Noah | 14.3% |
| James Corden | 11.2% |
"April is National Car Care Month and with trust being a strong determining factor in choosing care maintenance and repair professionals, we thought it would be fun to ask vehicle owners which late-night TV host they would trust most work on their cars," said Rich White, executive director, Car Care Council.
"As the results poured in, the two Jimmys were polling neck and neck, but in the end, Kimmel edged out Fallon for the 'most trusted to work on my car' title."
The survey was conducted by IMR Inc., an automotive market research company, and asked over 22,000 car owners throughout the country and only included current late-night TV hosts—apologies to David Letterman, Jay Leno (noted car enthusiast), and Conan O'Brien (my personal pick) fans.
Outside of late-night hosts, if you are looking for trustworthy repair shops, take steps such as reading reviews or seek recommendations from family, friends and neighbors to find the best spot for you.
The Car Care Council recommends asking six simple questions to help identify the right auto repair shop to properly take care of your automotive needs.
Does the business employ ASE-certified technicians? Credentials and affiliations are indicators of professionalism and the management's commitment to training and education.
Is the shop and customer waiting area clean and organized? Cleanliness and organization are signs of a well-run business.
Are customers greeted and treated in a friendly and respectful manner? Many auto repair businesses excel in the area of customer service and satisfaction. A simple phone call to the shop to inquire about their services can give you a glimpse of how they treat customers.
Does the business provide a written estimate? The business should complete a written estimate and request your signature prior to starting any repairs on your car.
Does the business offer a warranty? Most auto repair businesses offer a warranty on parts and labor and the warranty is usually in writing or posted in the waiting area.
Does the business have a list of satisfied customers or references that it is willing to give you?
To see more about National Car Care Month and check out guides, videos, and resources on vehicle maintenance, check out http://www.carcare.org/.