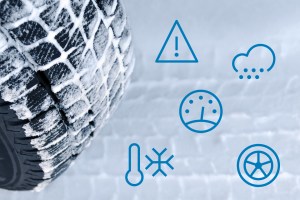 Driving through winter landscapes can be breathtaking, but the cold hard truth is that it often poses extra risks. One of the things you can do to prepare your vehicle for a safe journey is to equip it with winter tires. However, when is that really necessary?
If you're driving in temperatures that are in the low 40 degrees Fahrenheit and below then winter tires, also known as snow tires, will improve your safety. And, when in place, the difference they can make is significant.
So, that could make for an easy decision if you live or travel in an area that sees average seasonal temperatures within that range.
How winter tires can help you
Winter tires offer better all-around performance than regular all-weather tires when the temperature drops. In particular, they provide better traction in the snow, shorter braking distances and more control whether the road is covered in snow and ice or is cold and wet or cold and dry.
These benefits apply to both all-wheel drive and two-wheel drive vehicles. A survey by Consumer Reports gives some insight into how drivers feel behind the wheel when their vehicle does or does not have winter tires, and in the type of vehicle they're driving.
Firstly, let's look at vehicles without all-wheel drive or four-wheel drive capability. Forty-six percent of drivers rated cars as "very good in snow" driving without winter tires, which jumps to 68 percent when winter tires are on the vehicle.
For drivers of SUVs and wagons, these figures stand at 61 percent when their vehicle does not have winter tires, and 70 percent with them.
Drivers of all-wheel-drive and four-wheel-drive vehicles, meanwhile, generally seem more confident with a "very good" rating of 81 percent given for cars and 82 percent for SUVs and wagons, respectively, with no winter tires. The figures climb to 92 percent and 90 percent when winter tires are used.

How do they work?
Winter tires provide such advantages through their soft rubber compound, flexible structure and tread pattern. While all-season tire compounds are effective in warmer weathers, they harden when temperatures dip below 44 degrees and lose traction as well as some braking ability as a result.
It makes sense, then, that winter tires are less effective when the weather improves and should be changed when seasonal temperatures are above 44 degrees. Drive those tires in the summer and the soft compounds will wear down quickly.
When winter tires are on, also remember to keep them inflated to your vehicle's recommended pressure for optimal performance. You can typically find this information on the inside of the driver's door or in your owner's manual.
Your choice
It's important to take the risks of winter driving seriously, and if you encounter low temperatures and conditions like snow and ice on a regular basis, then winter tires could be a good move. If, on the other hand, you only experience these conditions occasionally and you make wise decisions about when to drive and when not to, then making the switch may not be necessary.