What is it like to participate in a drag race?
With racing speeds reaching hundreds of miles per hour in mere seconds, and noise levels equivalent to standing next to a jet engine, sitting behind the wheel of the fastest vehicles on the planet makes for the ultimate thrill ride.
Well, Dodge is inviting you to experience it.
Enthusiasts and race fans alike can participate in or attend the "Drag Strip Showdown," going on through the rest of this summer into the fall. The showdown will conduct head-to-head competitions in Dodge Challenger SRT® Demon simulators, and the top four drivers will win trips to the Dodge//SRT Bondurant Drag Racing School.
At the school, winners will be paired with either Mopar Dodge Top Fuel driver Leah Pritchett, or Mopar Dodge Charger Funny Car driver Matt Hagan. Their guidance will lead to a grand finale competition at Bondurant Race Track where the contest winners actually get behind the wheel of the 840-horsepower Dodge Challenger SRT Demon – the industry's first and only purpose-built, street-legal production drag car and the most powerful muscle car ever.
"Always a popular draw at events, the Dodge Challenger SRT Demon simulators provide drivers with incredibly realistic, interactive drag racing experiences as they go head-to-head to see who has the fastest reaction time and quarter-mile time," said Steve Beahm, Head of Passenger Car Brands – Dodge//SRT, Chrysler and FIAT, FCA – North America.
"Honing these skills in the 'Drag Strip Showdown' will be excellent practice for working with Leah Pritchett and Matt Hagan before taking the wheel in an actual 840-horsepower Demon on the Bondurant drag racing track."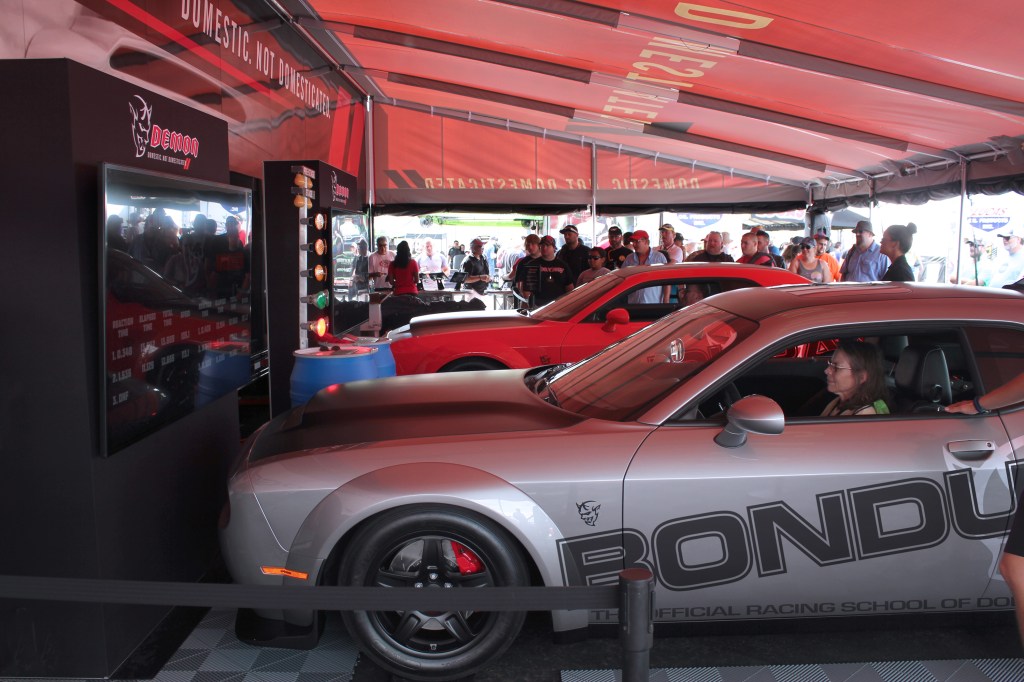 Showdowns first took place last month at the 39th annual Dodge Mile-High NHRA Nationals Powered by Mopar near Denver, Colorado. The next event takes place in August at Motor Trend Group's "Roadkill Nights Powered by Dodge" in Pontiac, Michigan, with nine more to come through November.
Eligible entrants must have a free DodgeGarage.com account and may only participate in the contest while at the events or while the event is underway for the sweepstakes.
For more contest and sweepstakes details, please visit www.dodgegarage.com/drag-strip-showdown.