We live in a very small town. I think I've mentioned that a time or two. So, when you live in a place like this and you drive a special edition truck, with scoops on the hood, that happens to be a unique color, you expect to stand out a bit. You, in fact, stand out a lot.
That's why it's not at all surprising that any time I take my Stinger Yellow 2016 Ram 1500 Sport to town, people wave. They definitely know who is coming because, let's face it, I am hard to miss.
There is a guy in town who owns a Sublime Green 2017 Ram 1500 Sport – equally hard to miss.
Every time I pass him on the road, I nod and wave. Not because I know him, but because I feel like we're somewhat kindred spirits.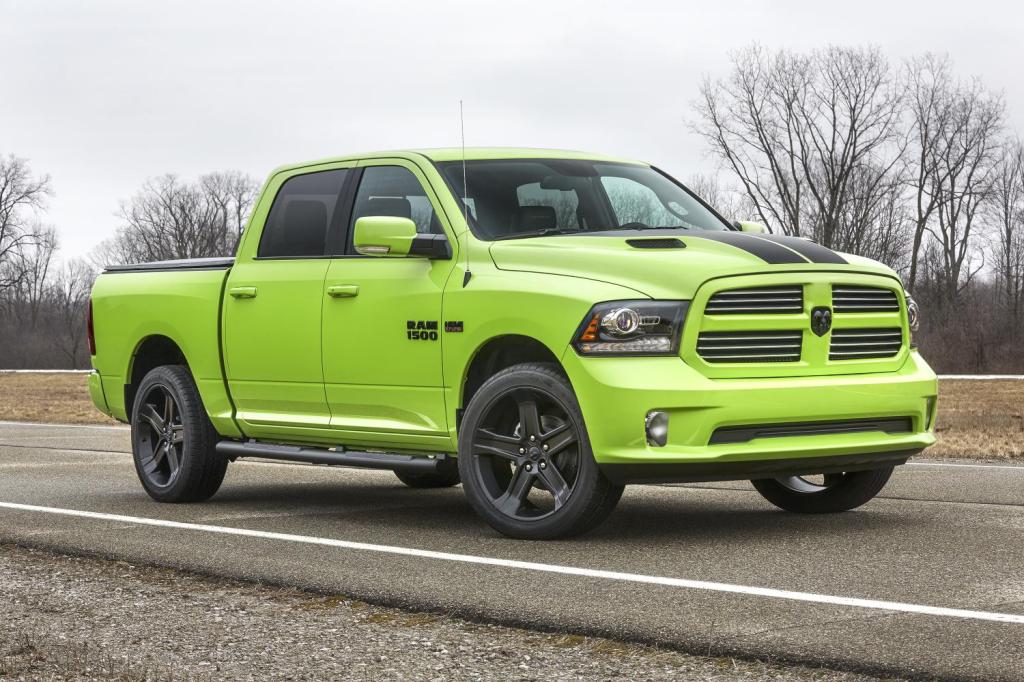 When I first noticed his truck and started waving, it got me thinking about the "Jeep Wave" and how Jeep® Wrangler and Wrangler Unlimited owners acknowledge one another on the road with a brief, two-finger wave. I have to admit, though, I owned a Wrangler for a while and, when you live in an area where Wranglers are quite common, you find yourself executing the Jeep Wave a lot. It loses some of its charm when you find yourself waving at every third or fourth vehicle.
It's a true rarity that I run into another special edition Ram 1500 Sport.
What does the Sport Wave look like? Good question. I'm pretty sure mine is different every time, so I guess I'm still working on refining it. The only thing I can promise you is, it includes a nod of appreciation, mutual respect and admiration. (Yes, you can get all of that into a single nod.)
Recently, I ran into Sublime Green (he has respectfully become known as that in our household) at the post office. Of course I saw his truck as I pulled into the parking lot, wondering if I was going to recognize him when I went inside. But I didn't even have the chance to glance around and guess who he might be. Instead, he happened to be headed toward the door as I was walking in and said, "Nice truck," as he passed me by.
Laughing, I gave him the same nod he receives when we pass on the road. This time, though, instead of a wave to go along with it, I shot him a, "Yours too," and kept things moving.
In retrospect, I wish I had done the nerd thing and asked if I could have taken a picture of our trucks together. But it's all good. Because, inevitably, we will run into one another again.
We do, after all, live in a very small town.