The other day, a friend of mine posted a picture of her child headed out for her first day of kindergarten. My first thought, after marveling at how quickly time flies was, "Is it really time for kids to be going back to school already?!?!?"
While most kids still have a couple weeks before the back-to-school rush really hits, the new school year is quickly approaching. Time to buy new shoes. Time to sharpen new pencils. Time to review school bus safety items.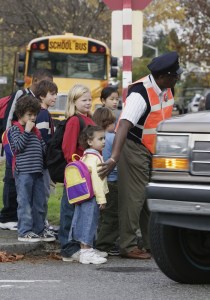 School buses transport millions of kids to schools every day during the school year and those children are more likely to arrive at school safe and sound. The National Highway Traffic Safety Administration (NHTSA) estimates each school bus represents 36 cars. This translates into 17.3 million cars that are kept off the roads and out of school traffic lanes every school day.
To keep kids safe while waiting for the bus, entering and exiting the bus and riding the bus, SafeKids.org lists six helpful tips for everyone to follow:
If possible, walk to the bus stop with your kids and wait until the bus arrives. When work and/or family schedules prevent you from being able to be present at the bus stop each morning, ensure your child understands the importance of standing back, away from the curb, when the bus is approaching. And board the bus one at a time.
Teach your kids to wait for the bus to stop completely before exiting.
If, after exiting the bus, it's necessary to cross the street, teach children to always take five giant steps away from the front of the bus and wait for the bus driver to indicate it is safe to cross. Never cross or walk behind the bus and always look in both directions before crossing.
Use handrails when entering and exiting the bus. Beware of backpacks, book bags and lunch bags that have straps and drawstrings as they can get caught, and ensure the driver is aware if something is dropped, caught or stuck.
When driving in or near a school zone or bus stop, it's important to slow down and stay alert. Kids are not always watching for you, so make sure you're watching for them.
Slow down and stop for flashing yellow or red lights on a school bus. Familiarize yourself with your state's laws concerning when it is okay to pass a stopped school bus, again keeping in mind that kids may not always be watching for you.
Whether it's your child's first time riding the bus to school or she/he is a seasoned pro, refresh everyone in the family on school bus dos and don'ts to ensure a safe and productive school year.