Recently, I had an opportunity to review feedback from Chrysler Capital customers. As you can guess, most provided advice regarding areas of opportunity in which we can improve, which is great. Without constructive feedback, we would not have the direction necessary to continue striving to be a best-in-class auto finance provider.
Among the reviews were also entries from those who were anxious to let us know about positive experiences they have had as a Chrysler Capital customer. Some not only took the time to complete the review, but also to call out the exemplary service provided by a specific associate, Laura Thornton.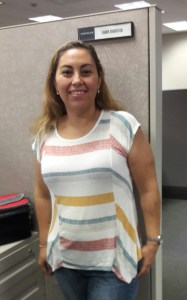 Congratulations, Laura, on your commitment to outstanding customer service.
As a six-year veteran of the company, Laura is currently a Lease Coordinator II on the Chrysler Capital Allegiance Team. Her team is the first point of contact for any and all lease-end questions. She works with both customers and dealers, so understanding the ins and outs of leasing and all of the lease-end options is paramount to Laura's success.
It's also something she doesn't take lightly.
When asked about her work philosophy, Laura kept it simple. "Do everything you do with pride and a good attitude and work will no longer feel like work. Life will be more enjoyable."
Team manager Jorge Gonzalez appreciates Laura's outlook and speaks highly of her abilities. "Laura is someone who really understands our Be More culture. She has a great tone over the phone and puts callers at ease with her confidence and willingness to assist."
Outside of work, Laura chooses to live her life to the fullest. She loves music and enjoys going to some of the many concerts in the DFW area. She also appreciates visiting and exploring new places and one day hopes to visit the ruins of Chinchén Itzá in Cancun as well as the pyramids and ancient cities of Egypt.
Until the opportunity to travel rolls around, you're likely to catch her getting in a good laugh as she watches a funny movie, like her favorite, The Wedding Singer. Or you may spot her enjoying a quick lunch at a local eatery specializing in Mexican cuisine.