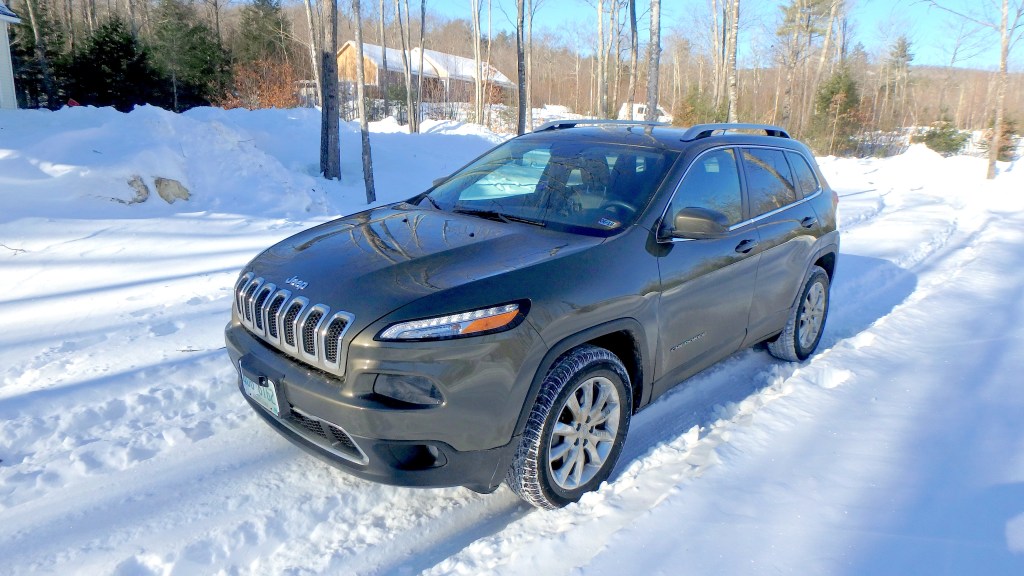 Anytime you can start the New Year off with a new addition to the family, it's a good thing, right? I think so too.
That's why we are so excited to welcome our new addition to our family – a 2016 Jeep® Cherokee Limited.
I've been waiting a long time to buy my Jeep Cherokee. For those of you who have been reading/following The Road Best Traveled, you may remember back when I was eagerly awaiting the reintroduction of the Cherokee to the Jeep brand lineup. I said then that a Jeep Cherokee would be my next vehicle. I was a little off with that prediction. Stuff happens.
So, when we (mostly me) decided it was time to start looking for another vehicle, I had very specific parameters that had to be met. It had to get decent gas mileage. It had to comfortably fit everyone, plus our gear. It had to be either all-wheel-drive or four-wheel-drive. And, most importantly, it had to be within a very specific budget, which meant it was going to be a used vehicle, but I didn't want anything with high miles.
Basically, I was looking for a unicorn.
The one thing I did not specify was that it had to be a particular make and/or model. (Admittedly, there were a few I told my husband it could NOT be, but he was not limited to my preferred brands.) To his credit, not only did he find something that met all the criteria I had put into place, it also happened to be the ONE SUV that I've had my eye on for the last four years.
My husband, when put to a challenge, can find almost anything. And it was a great deal.
Because we had recently test driven a new model Jeep Cherokee, we already knew it had the right amount of space for our family. We put it to the test just last night when we made an impromptu flooring purchase, while still needing adequate space to fit everyone comfortably for the ride home.
It worked perfectly!
We've also recently been hit by some extreme winter weather (perhaps you heard about the recent "bomb cyclone" that hit the northeast), making the remote start, heated steering wheel and heated front seats three of my new best friends.
Of course, I'm also a fan of Uconnect. Always have been. Always will be. It's so user-friendly. It took me about five seconds to pair my phone. Done. And trust me, if I can do this, anyone can. I am about the least techno-savvy person you could possibly know, typically leaving tasks like pairing my phone to my husband. But when vehicles come with Uconnect, I'm completely comfortable telling him, "Stand back. I got this."
My absolute favorite thing about my Jeep Cherokee will likely surprise you. Mostly because, while each of the items on my "must-have" list were, indeed, necessary, the best part of my Cherokee has nothing to do with any of them.
It's the seats. Random, I know. But Jeep brand SUVs, in my humble opinion, have the most comfortable seats of any brand available. They're wonderful. You should try them with the seat heater all nice and toasty. It's a great way to start off a cold winter morning.
So, here I am, just four short years later than predicted, driving about town in my Cherokee. It's as awesome as I thought it would be … and totally worth the wait.