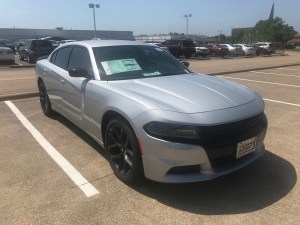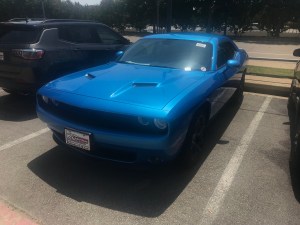 Throughout my test drives, I've had the privilege of spanning across the spectrum of FCA US LLC vehicles.
I powered through a truck.
I experienced a family minivan.
I even got a look at one of the year's most anticipated new-release rides.
For this one, I thought it could be good to try out something in the sport/muscle car territory. And what's better than getting behind the wheel of a vehicle from the makers and founders of Muscleville?
How about TWO vehicles from Muscleville?
The 2019 Challenger and Charger played pivotal roles toward Dodge winning Best Styling Brand in Kelley Blue Book's (KBB.com) Brand Image Awards earlier this year. The two vehicles thrive on bringing muscle and sports car appeal with fair and affordable prices. In fact, the Dodge Charger also won another KBB.com award for Best Resale Value in the Full-Size Car segment.
But if you're looking to buy or lease a vehicle and try to decide between the two, which one should he or she go with?
We took a 2019 Dodge Charger SXT Blacktop and a 2019 Dodge Challenger SXT Blacktop for a spin to answer that very question and see which one could be the best fit for you.
MUSCLE CAR APPEAL – CHALLENGER

While both vehicles bring the look and feel of a muscle car, the Dodge Challenger took the cake once I stepped into the driver's seat.
Though opinions may differ, I felt more of a "king of the road" mindset behind the Challenger in comparison to the Charger. The more I drove, the more I envisioned myself cruising down a long stretch of highway without a care in the world, the music of rubber against the road and revving V6 engine singing in my ear.
If your top priority is to feel like you're driving a pure muscle car, the Challenger may be your way to go.
PRACTICALITY – CHARGER

With the Challenger, I pictured the open road and breezing through a cross-country road trip with just me and my ride.
With the Charger, I imagined myself more on the day-to-day treks we make throughout the week: work commute, errands, etc. Though the Challenger does carry Best-in-Class cargo volume1, the four-door sedan Charger provides ample trunk space and a comfortable back seat for family and friends.
If you're looking for a vehicle that will be used more for everyday life, you possibly could be better suited with the Dodge Charger.
THE DRIVE – TIE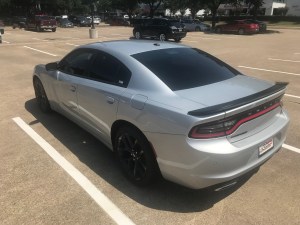 When it comes to comfort and feel on the road, you can take your pick between either of the two. Both provided impressive acceleration during our test drive and solid suspension whenever we needed to go over any speed bumps.
A couple of differences is the Challengers brings a little bit more horsepower to give some boost while the Charger feels a touch more compact behind the wheel. It's almost like the drive comes back to the Muscle Car Appeal versus Practicality.
If I'm going for more of the sporty powerful drive, I believe my pick would be the Challenger.
If I'm wanting something that's a little more practical and helps me get from Point A to Point B, I think I would lean toward the Charger.
No matter what, you'll look good in either Dodge brand vehicle.
To see if you may be eligible for incentives or lease deals, check out our Chrysler Capital Offers page.
1Based on WardsAuto Middle Specialty segment.